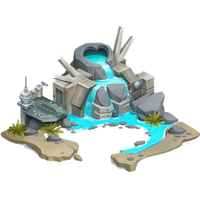 "Monsters breed at the Breeding Mountain. If you want to discover all the monster species, then this is the place to be. Speed up the breeding process with Gems!"
The Breeding Mountain is a default building players have at the start of the game. As such, it cannot be purchased, sold, or stored. The Breeding Mountain also can display a Breeding Log, listing the last 100 breedings the players performed, allowing for easier repetition. It is a 5x5 unit building.
Ultra Breeding Tree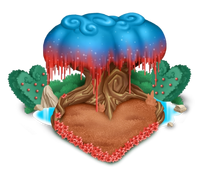 "Don't just breed one monster at a time, with the Ultra Breeding Tree you can breed an additional monster! If you love to experiment and discover new monsters, this will be an essential part of your island that will double the fun."
Like the Breeding Mountain, The Ultra Breeding Tree may not be stored or sold. It may be purchased from the store for 150
after which it takes 3 hours to build. It is a 6x6 unit building.