Line 36:
Line 36:
 

|-

 

|-

 

|{{colosal|monster1=Pa'Lhax|rarity1=legendary|monster2=Dunn Ra|rarity2=legendary|monster3=Hayman|rarity3=legendary}}

 

|{{colosal|monster1=Pa'Lhax|rarity1=legendary|monster2=Dunn Ra|rarity2=legendary|monster3=Hayman|rarity3=legendary}}

 
+

|-

 
+

|{{colosal|monster1=Rascal|rarity1=epic|monster2=MMOnster|rarity2=legendary|monster3=Helgudin|rarity3=legendary}}

 

|-

 

|-

 

|{{colosal|monster1=Nebotus|rarity1=legendary|monster2=Faugnar|rarity2=legendary|monster3=Hellberus|rarity3=epic}}

 

|{{colosal|monster1=Nebotus|rarity1=legendary|monster2=Faugnar|rarity2=legendary|monster3=Hellberus|rarity3=epic}}
---
Revision as of 15:13, 28 May 2020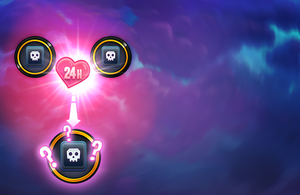 The El Colosal Breeding Event is a special breeding event in which the combinations and results are unknown. It allows players to get many great legendary monsters. Click here to see previous iterations of this event.
In this fourth edition of El Colosal, almost all the dark monsters in the game are available for breeding! Monsters can be bred as many times as players want during the event. Recipes below will be updated as more monsters are known. Please note that given the short duration of this event and the fact that the combinations are not published by Social Point, the combinations below could be inaccurate.
During this event, the monsters below can be bred with a 50% chance! Unsuccessfully breeding the monster will result in a Utochomp or MonsterFace with a 2 hour breed time and 2 hour hatch time. Any combination resulting in a Tyrannoking with a 2 hour breed time and 2 hour hatch time means the combination will not result in anything else. Warmasters, Forsaken, and Mythic monsters are not breedable during this event.
Occasionally, a regular breeding combination may still result- this is normal. Breeding legendary monsters may result in a common monster being bred. This is also a standard breeding combination.
Available for 5 29 2020 10:00:00 UTCEXPIRED

| Monster 1 | | Monster 2 | | Result |
| --- | --- | --- | --- | --- |
| | | | = | |
| | | | = | |
| | | | = | |
| | | | = | |
| | | | = | |
| | | | = | |
| | | | = | |
| | | | = | |
| | | | = | |
| | | | = | |
| | | | = | |
| | | | = | |
| | | | = | |
| | | | = | |
| | | | = | |
| | | | = | |
| | | | = | |
| | | | = | |
| | | | = | |
| | | | = | |
| | | | = | |
| | | | = | |
| | | | = | |
| | | | = | |
| | | | = | |
| | | | = | |
| | | | = | |
| | | | = | |
| | | | = | |
| | | | = | |
| | | | = | |
| | | | = | |