Frazerot is a Water Support monster with stamina removals and Area-Dodge. He can remove negative effects from all allies while giving them Torture Immunity and Life Regeneration, or remove their negative effects and give them Control Immunity. Frazerot has an Evolving Trait: At rank 0, he has Area-Dodge, at rank 1, he becomes a status caster, applying Stamina Regeneration to allies at the start of the battle. Finally, at rank 3, he gains Freeze Immunity.
Breed

15x
for every successful breeding.
Survival Dungeon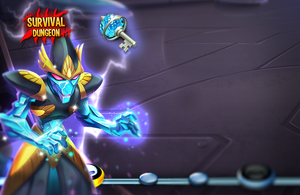 Once a player has successfully bred one of the monsters above, they will receive a special

token that unlocks the survival dungeon. In order to receive the token (and any bonus cells), the monster must be in the hatchery before the breeding event expires.
This is a special dungeon where players' monsters do not recover life or stamina between battles. Once a monster is killed, it is unusable unless the players spend gems. This survival dungeon has a water element restriction.
Rewards
| Node | Reward |
| --- | --- |
| 5 | 5x |
| 10 | 5x |
| 15 | 5x |
| 20 | 10x |
| 25 | 25x |
Gallery
Community content is available under
CC-BY-SA
unless otherwise noted.