Kralik is a Metal Debuffer who can apply Total Damage Reduction and Total Blind, stopping his enemies from dealing any damage. He has an Evolving Trait: at rank 0, he's Immune to Freeze, at rank 1, he gains Immunity to Poison and, at rank 3, he becomes a Status Caster, gaining Immunity to Tortures at the start of the battle.
Breed
Players are also rewarded with

15x
for every successful breeding.
Survival Dungeon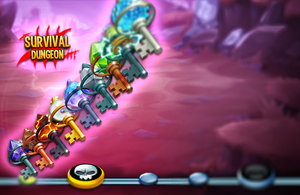 Once a player has successfully bred one of the monsters above, they will receive a special

token that unlocks the survival dungeon. In order to receive the token (and any bonus cells), the monster must be in the hatchery before the breeding event expires.
This is a special dungeon where players' monsters do not recover life or stamina between battles. Once a monster is killed, it is unusable unless the players spend gems. This survival dungeon has a metal element restriction.
Rewards
| Node | Reward |
| --- | --- |
| 5 | 5x |
| 10 | 5x |
| 15 | 5x |
| 20 | 10x |
| 25 | 25x |
Gallery
Community content is available under
CC-BY-SA
unless otherwise noted.