Madam Fusion is a Magic Support Extra-Turner. She has different skills that remove positive effects, disable traits, and clean negative effects and then she comes back with an extra turn. She can also recharge the team's Stamina without spending any of her own Stamina, make her allies Immune to Blind, and protect them against Cooldown Activations. A true Support specialist designed to go with other extra-turners!
Breed

15x
for every successful breeding.
Survival Dungeon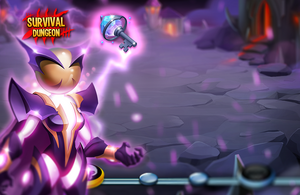 Once a player has successfully bred one of the monsters above, they will receive a special

token that unlocks the survival dungeon. In order to receive the token (and any bonus cells), the monster must be in the hatchery before the breeding event expires.
This is a special dungeon where players' monsters do not recover life or stamina between battles. Once a monster is killed, it is unusable unless the player spends gems. This survival dungeon has a magic element restriction.
Rewards
| Node | Reward |
| --- | --- |
| 5 | 5x |
| 10 | 5x |
| 15 | 5x |
| 20 | 10x |
| 25 | 25x |
Gallery
Community content is available under
CC-BY-SA
unless otherwise noted.