This article is about the Monster Arena building. For PvP Multiplayer, see Multiplayer.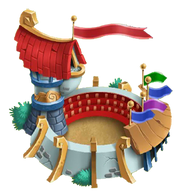 The Monster Arena is a now-defunct building from which players used to engage in PvP multiplayer battles. That game mechanic is now incorporated into the gameplay, apart from the building. By default, players had a maximum of 2 multiplayer attack points. Building the Monster Arena increased that to 3.
The building was available to purchase when multiplayer became available, at player level 10. It is officially now categorized a decoration. It is a 6x6 unit building that sells for 12,500

.
Community content is available under
CC-BY-SA
unless otherwise noted.