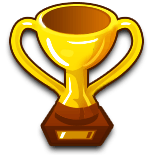 Multiplayer
mode is a PvP aspect of the game in which players select any three monsters to fight against an opponent. At the end of each season, players are awarded additional prizes based on their ranking.
Current Season 35 ends in EXPIRED. refresh
Basics
Players choose an opponent from a selection of 3 other players. The opponent's monsters and their levels are displayed, however, their runes and relics are not. Players will earn the listed number of trophies for successfully defeating the enemy, but will lose the listed number of trophies if they are defeated.

to refresh the opponent selection up to two times.
Attacking requires spending 1

which generates every 50 minutes. Players have a maximum of 3

.
Players must set an Attack Team and a Defense Team. The same monster cannot be used on both teams.
Seasons
As player earn and lose trophies, their rank will go up and down and their League may change.
The higher the league, the better the rewards given at the end of the season. Check the Leagues section in the game to see that season's rewards.
Leagues
| | League | Min. |
| --- | --- | --- |
| | Legendary Leader | 5,500 and #1 ranked |
| | Legendary I | 5,500 and top 30 ranked |
| | Legendary II | 5,500 and top 100 ranked |
| | Legendary III | 5,500 and top 500 ranked |
| | Legendary IV | 5,500 |
| | Champion I | 5,000 |
| | Champion II | 4,500 |
| | Champion III | 4,000 |
| | Gold I | 3,500 |
| | Gold II | 3,000 |
| | Gold III | 2,500 |
| | Silver I | 2,000 |
| | Silver II | 1,500 |
| | Silver III | 1,100 |
| | Bronze I | 700 |
| | Bronze II | 350 |
| | Bronze III | 100 |
| | Beginner | 1 |